LinkStack
Self-hosted open-source Linktree alternative
LinkStack is a highly customizable link sharing platform with an intuitive, easy to use user interface.
Why choose LinkStack?
Feature rich
LinkStack offers more features than any other comparable solution out there.
Easy to set up
LinkStack is user-friendly and easier to set up compared to similar web applications.
Open Source
LinkStack is free to use, distribute, and modify.
Our source code is available on our GitHub page.
Find the right instance for you
Find instances generously hosted by members of our community. Browse through the options to find the perfect fit for your needs and start sharing your links with ease.
Free
Ad free
GDPR-compliant
Secure
Privacy-oriented
Open-source
linksta.cc
Official instance
example.com
Hosted by the example YouTube community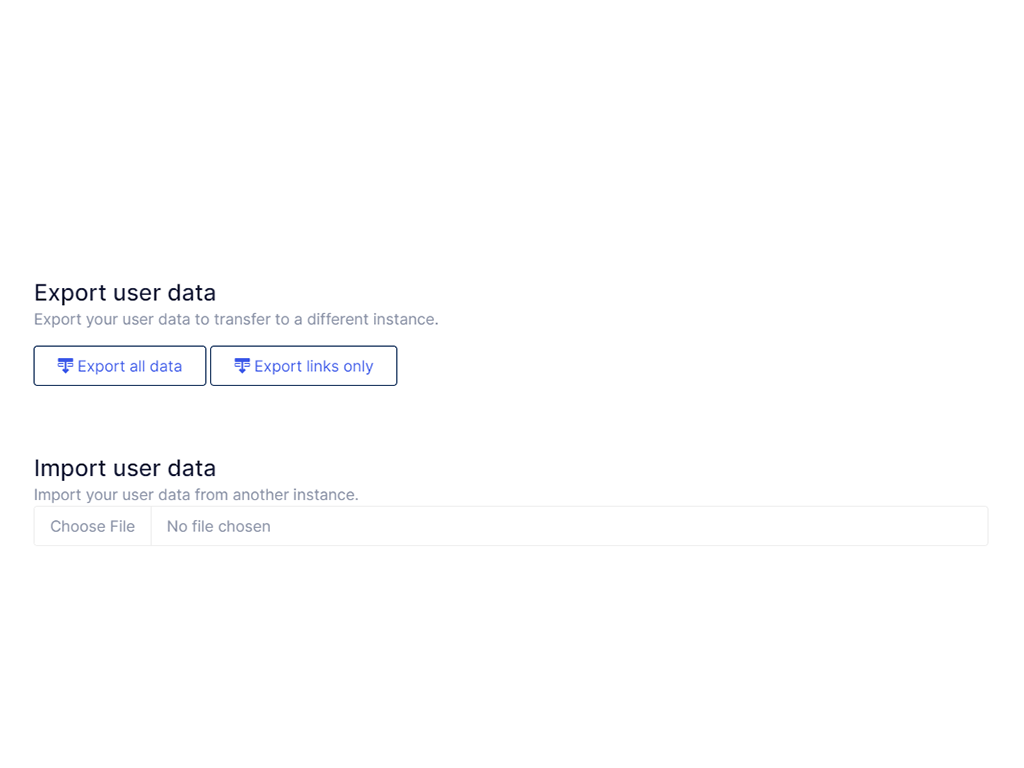 Take your links with you
Export all your data from one instance to another. You can decide where you want to be.
Try out an online instance and host it yourself if you like it. Export your links and settings to wherever you want to be.
Your links in your control
Choose where you want to be
Chose where and how you want your online presence to be. Use one of the free instances online, make use of our premium hosted instances or host it yourself using a web server or docker.
Hosted options
NGINX, Apache…
Key Features
Overview of key features defining LinkStack
Customizable
LinkStack is highly customizable to fit your exact needs.
Theme Customization
Customize the look of your LinkStack instance with themes.
Multiple users
The LinkStack web app allows other users to register on your page and create their own profile.
Analytics
Make data-driven decisions with our real-time tracking of user behavior and sales data.
Code free setup
Compared to other solutions, LinkStack is the easiest one to set up.
Built in SMTP server
LinkStack provides users with a free to use Mail server to allow for email verification and password reset capabilities.
A Unique Look
Customize the look of your page with themes.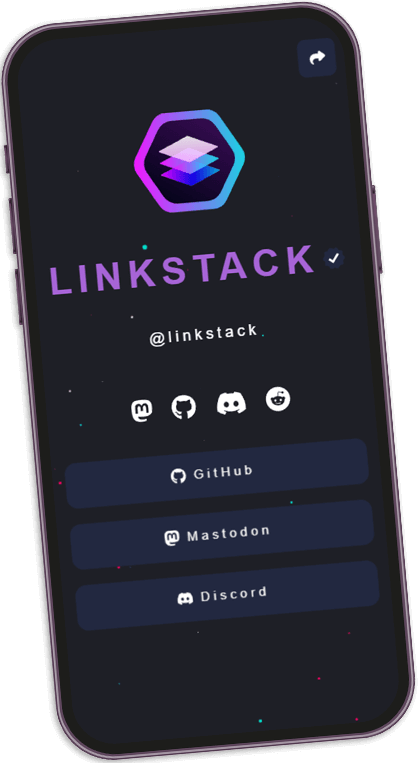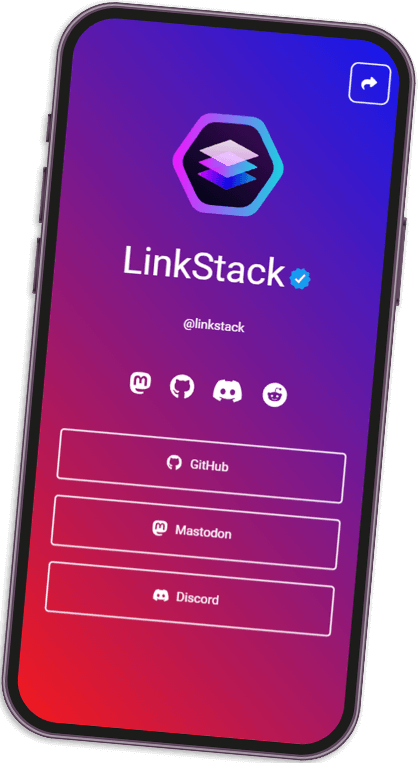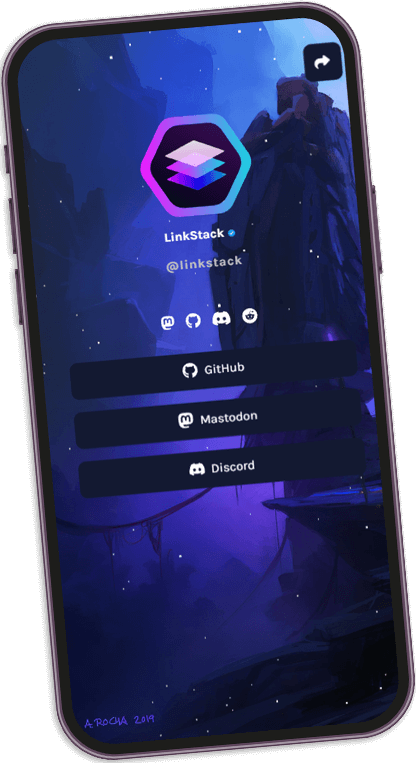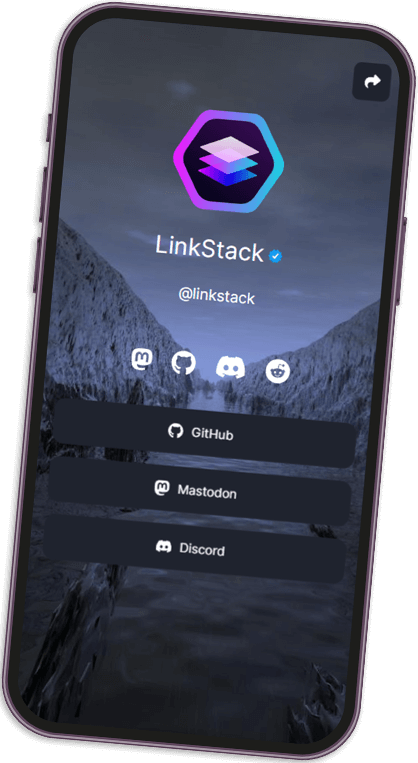 Support LinkStack
Support our mission to provide free access to valuable resources and services, which requires financial support for maintenance and operation.
Single user
$1/mo
Instance hosted by us
Single user account
Only subdomain
SSL certificate
Priority support
Custom domain
$5/mo
Instance hosted by us
Up to 10 users
Custom domain
SSL certificate
Priority support
Full-featured
$8/mo
Instance hosted by us
Up to 100 users
Custom domain
SSL certificate
Priority support
Ready to use instance setup by us
FAQ
Is LinkStack free?

LinkStack is free. Forever. It's an open-source project, which means it is available to anyone to use, modify, and distribute without any cost.
What is our aim?

The aim of LinkStack is to provide users with a free and privacy-focused solution for managing and sharing links online. With the option to self-host our app, users can have complete control over their data without having it sold to third-party companies. We also offer free instances for those who may not have the technical know-how to self-host, while still prioritizing their privacy. Our platform offers many of the same features and options as commercial platforms, while valuing the privacy and autonomy of our users.
What can I do to help out?

To help us on our mission, you can contribute to our GitHub code base or create a custom theme. Alternatively, you can help use by donating and making use of our hosted services.
What do I need to use LinkStack?

A web server running at least PHP 8. Otherwise, you can use our Docker image. If you're just getting started, you can use one of the instances hosted by our community. Alternatively, you can make use of our premium hosted options.
What can LinkStack do for me?

LinkStack offers a convenient solution for sharing multiple links on social media and other platforms. With its ability to host links on your own web server or web hosting provider, it allows you to add all your links to a single page. This makes it easy to share multiple links on social media, without the limitations of a single link.
Where can I get support?

Feel free to join our Discord and get help from our community. If you encounter a bug, please report it on our GitHub page.
Host it yourself
You can host LinkStack using Docker or most web server platforms. Read the documentation for detailed instructions and join the discord for support.
Deploy using docker
Read the docs
Host it on a web server
Get help
You may also find useful…
Articles
LittleLink Custom has been renamed to LinkStack. We have been working hard on this project for quite some time, and we believe that this new name is more reflective of our broader vision and goals for the future. For those who may be unfamiliar, LinkStack is a fork of LittleLink Admin that focuses on making …